Janina
Professional Trainer & Bodybuilder
ABOUT

JANINA

I started my fitness business Janina's Fitness Center for women in 2005 as a way to help other women become empowered in all areas of their lives by taking responsibility for their health, fitness and overall health.

If they conquer this and are able to become happy with their bodies, weight, and self esteem issues then all areas of their lives will improve-career, personal and health.

I absolutely love all things to do with fitness since it is my passion. I love what I do and don't just do fitness but also am an applied mindfulness life coach and energy medicine practitioner.
I just love to help others move past their limiting beliefs and blockages in life but I know that conquering the fitness challenge will remove all other blocks as well. I"ve had many hard challenges in my life that I would not have overcome had I not been the athletic minded woman that I am. I don't believe in giving up, losing nor taking the easy way out.

One of my trainers for my early shows said to me, to be the best you must train hard, with no excuses and my late father always instilled in me to never make excuses in life.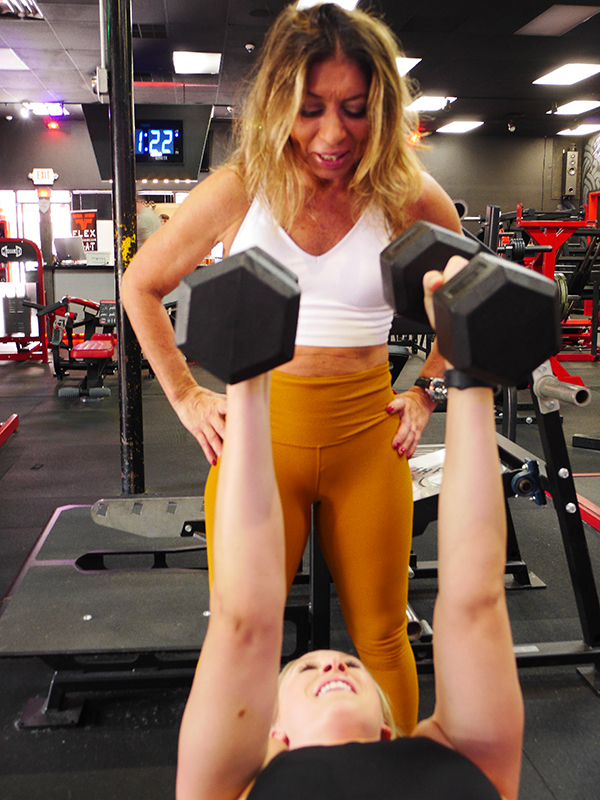 ASK THE
TRAINER
What inspired you to train?
I was always an athlete since age 6 and participated in competitive sports such as gymnastics, cross-country running, track and dance. I love competition and I've won seven shows-5 bodybuilding, 2 fitness pageants. I love being fit and healthy. Ms. West Coast 1985, Ms. Great Body America 1984, Ms. Natural National 1984, Ms. California 1987, Ms. Fitness USA 1990, Ms. Fitness America 1993 and Ms. Lowrider-Bikini contest!
What are your favorite exercises?
I love doing squats, leg press and cross over lunges for legs. I love training arms to however. I love blasting glutes at Flex Fitness too. Tony has a lot of glute machines to train them.
What nutrition do you prefer most?
On of my favorite meals is making a healthy pot roast with vegetables. I also love salmon with vegetables. I recommend taking amino acids when trying to lean out. I also recommend carnitine to increase energy and mitochondria production.
How often do you personally compete?
I've won 5 shows in my first 5 years of training and two fitness pageants- one before my daughter was born, the other when she was 18 months old. I train 6 days @ week.
What do you enjoy outside of training?
I love traveling, spending time with my daughter and grandson, and my dog An'geni. I enjoy writing, swimming, meditation, and life coaching others to become the best version of themselves.
SPORTS


NUTRITION

Shop our brands of high-quality supplements and sports nutrition. We have a wide variety of products including our very own GOAT High Performance Pre-Workout powder.